Maine Rx Card Media Center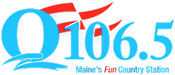 Need Help Paying for Prescriptions? It's Free!
So, even if you happen to have health insurance, your prescription medications can still wind up costing you big bucks at the pharmacy.
Just ask cancer patients who are often told their life-saving medications will cost them thousands of dollars, and usually for just one month's treatment regimen.
A new program just launched in Maine can help all residents realize savings, regardless of whether you're covered by health insurance.
It's called the Maine RX Card program, and the Maine Medical Association wants to be sure everyone is getting the word about this helpful and free program.
Alix Cousins with Maine RX says there are no strings attached.
All you have to do is go online and print out the RX card and you can make as many copies as you may need.
The Maine RX Card program is being sponsored through participating pharmacies and pharmaceutical companies.